Overview
Learn about forms in PlanRadar and how forms are related to tickets.
What is a Form?
A Form defines the capabilities and fields of a ticket. You can create forms that are tailored to your specific use cases and processes.
Also read Tickets fundamentals to learn more about what a ticket is and how you can fulfil different use cases with them.
Example of form builder for the 'Documentation' form: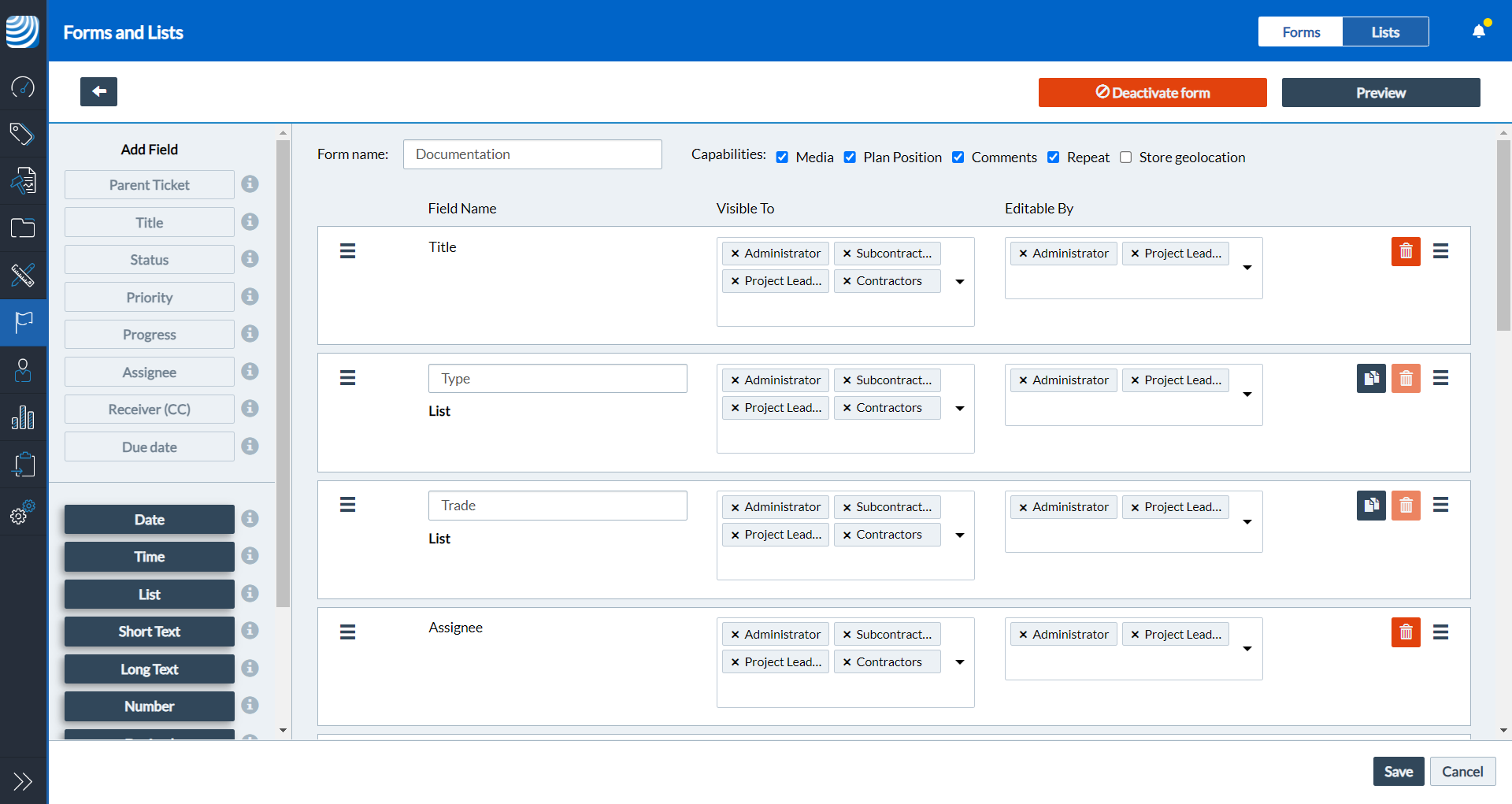 Create Forms
With the form builder you define which fields you want to use and their order.
Read more in Create & Edit Forms. (not yet done)
You can also define which user role can view or edit each field when working with tickets.
Read more in Permissions and Field Permissions. (not yet done)
Field Types
There are two types of fields available:
Predefined fields: They come with special functionality and cannot be changed. They include for example a ticket's title, assignee, status and priority.
Custom fields: You can define the field title and a data type including dates, texts, numbers, check boxes and lists. For list fields you can also provide a list of values that the user can choose from in a drop-down when working on the ticket.
Read more in Field Types and Lists. (not yet done)
Capabilities
For each of your forms you can enable or disable the following capabilities:
Media: to attach photos, videos, voice recordings and documents to a ticket
Plan Position: to locate the ticket on a 2D plan or 3D BIM model
Comments: for live discussions within each single ticket
Repeat: for recurring tasks
Store geolocation: to locate the ticket by it's GPS coordinates
Add Forms to Projects
Each form can be used in multiple projects. First you create the form and then you choose in which projects it should be available.
Read more in Manage Forms of a Project. (not yet done)
Example of managing forms of a project: